Do you need a real estate due diligence checklist for a commercial real estate property? The PropertyMetrics team has created several helpful resources for commercial real estate professionals. Please feel free to download and use the following real estate due diligence checklist template:
Real estate due diligence is a critical step in the acquisition process of a property. It is the process of verifying the information provided by the seller and ensuring that the property meets the buyer's investment criteria. The due diligence checklist helps to ensure that all the important aspects of the property are thoroughly reviewed before the closing.
The real estate due diligence checklist includes several items that need to be reviewed and addressed before the closing. The items can be divided into several categories: Acquisition Actions/Documents, Title/Survey/Zoning Matters, Tenant/Lease Matters, Financial Matters, Service Contracts, Litigation, Insurance, Physical Property Inspection and Review, Personal Property Inventory, Governmental Review, Closing and Miscellaneous Actions, Property Operations and Management, and Financing Matters.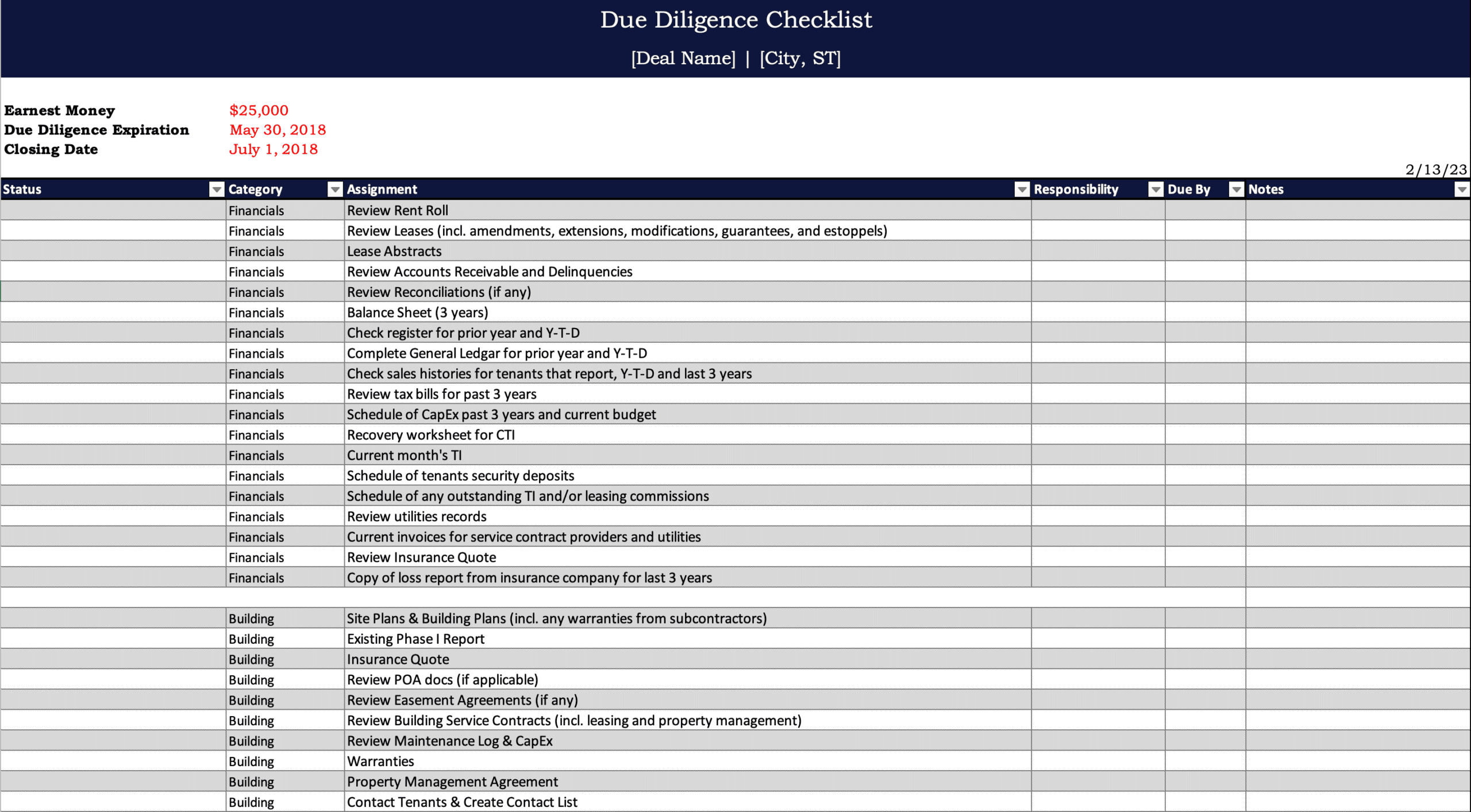 The above real estate due diligence checklist includes the following due diligence items.
Acquisition Actions / Documents
Signed Letter of Intent
Investment Committee Presentation and Approval
Request/obtain Due Diligence Materials
Select Legal Counsel
Select UBIT/ERISA Counsel
Obtain/review 1st draft of Purchase Contract
Obtain/review 2nd draft of Purchase Contract
Obtain/review 3rd draft of Purchase Contract
Obtain/review 4th draft of Purchase Contract
Obtain/review 5th draft of Purchase Contract
Obtain Access Agreement
Client Authorization Letter
Portfolio Manager Authorization Letter
Obtain/review fully executed purchase contract
Deliver copy of fully executed Contract into escrow
Arrange for Buyer's initial LC or cash deposit with Escrow Holder
Arrange for investment of Buyer's initial cash deposit
Independent Contract Consideration to Seller
Prepare funding schedule and forward to portfolio manager/client
Obtain name of acquiring (title holding) entity
Arrange for required bank accounts to be set up
Obtain fully executed 1st Amendment to Purchase Contract
Obtain fully executed 2nd Amendment to Purchase Contract
Title/Survey/Zoning Matters
Select Title Company
Receive/review SellerÕs title commitment and underlying documents; forward to Title Company
Order current title commitment and underlying documents
UCC and judgment lien searches
Receive and review existing survey
Order new ALTA survey (or update)
Subdivision and parcel maps
Restrictive covenants, easements, and agreements
Local improvement district information
Verify Leases, Entitlements, and other assets are in Seller's name or that appropriate Assignment documents exist
Confirm releases available from current lienholders (if applicable)
Deliver Title and Survey Objection Letter to Seller (if applicable)
Tenant/Lease Matters
Obtain current Certified Rent Roll
Receive/review Leases, Amendments and all related documents; prepare Lease Summaries
Engage Legal Counsel to review Leases and prepare Lease Summaries
Compare Internal Lease Summaries to Legal CounselÕs Lease Summaries
Compare Lease Summaries with Rent Roll and Pro Forma
Review Tenant Lease Files
Resolve issues regarding Leases
Review Tenant Correspondence Files
Compare expense pass-throughs/CAM charges to Operating Statements
Review cost pools for overcharges to tenants
Receive/review tenant sales reports
Receive/review list of security deposits
Receive/review aged receivables report
Review tenant credit information, payment history
Review Leases for any contractual Landlord obligations (i.e. construction, payments to tenant)
Compare square footage between Leases and Rent Roll
Prepare Tenant Estoppel Certificates
Review signed Tenant Estoppel Certificates
Crosscheck signed estoppels against the rent/deposit schedule
Financial Matters
Receive and review copies of historical and proforma financial information
Receive and review utility bills (electric, water, gas)
Receive and review most recent tax statements and related information
Verify all expenses of operating the property have been reflected in the financial information provided by the Seller
Compare expenses to comparable building data
Receive/review past and budgeted capital improvements
Service Contracts
Receive and review service contracts
Verify all service contracts terminable without penalty
Confirm assignability of service contracts
Approve contracts to be transferred & notify Seller
Litigation
Review litigation list (if applicable)
Determine existence of contingent liabilities or open claims against the property
Insurance
Obtain insurance quote from Risk Management
Review third party Property Management Agreement for adequacy of insurance coverage
Provide information to Risk Management for final Certificate of Insurance
Physical Property Inspection and Review
Receive/review as-built plans/specs (electrical, mechanical, structural)
Receive/review existing inspection reports (roofing, HVAC, seismic, soils)
Order current engineering report (Property Condition Assessment), to include structural, mechanical, code compliance and ADA compliance.
Receive/review existing environmental reports and studies
Order current Phase I Environmental Site Assessment
Order current Additional Site Investigation (Phase II)
Receive/review building permits, licenses, certificates of occupancy
Verify parking is adequate (i.e. governmental regulations, practical requirements, lease requirements)
Verify approximate sf of improvements
Review utility site plan, verify adequate utility hook-ups, verify all utility hook-up fees paid, identify requirements for utility deposits
Review energy usage reports; compare usage to expenses
Verify amount of available wattage psf and compare to market
Receive & review construction contracts/subcontracts
Receive & review building warranties/guarantees
List of personal property and trade/service names
Copies of liability, casualty and other insurance
Site plans, leasing brochures, maps and photographs
Personal Property Inventory
Receive and review list of personal property
Verify no material personal property omitted from personal property list
Verify personal property in good operating condition
Governmental Review
Review licenses and permits; verify no breach of licenses and permits, that all conditions are satisfied, that licenses and permits are in current OwnerÕs name and whether transfer is required, and that there are pending applications for licenses and permits
Verify certificates of occupancy for property and tenant spaces on file
Verify proper zoning; obtain zoning letter
Verify improvements comply with governmental regulations
Verify no development rights transferred
Verify no existing contemplated assessments
Verify no pending rezoning
Verify no pending administrative proceedings or governmental plans or studies
Verify no utility moratorium
Closing and Miscellaneous Actions
Notify Seller of any breach or misrepresentation discovered during due diligence review
Aggregate cost of correcting any problems discovered through due diligence
Initiate any necessary changes to forms of Closing Documents
Prepare and approve authority documents
Request current financial information from Seller for prorations
Confirm prorations for taxes and assessments
Confirm prorations for utilities
Confirm prorations for rents
Confirm prorations for permit and license fees
Confirm prorations for utility deposits
Confirm prorations for operating accounts
Confirm prorations for obligations under contracts
Confirm prorations for security deposits
Confirm prorations for closing costs
Confirm prorations for any commissions, tenant improvements, or other leasing expenses
Confirm prorations for any other apportionments
Request schedule of Buyer's title related costs from title company
Prepare schedule of estimated closing costs
Prepare & distribute form of Tenant Notice
Prepare the assignment of Purchase Contract
Arrange for Buyer's replacement/additional cash deposit
Arrange for investment of Buyer's replacement/additional cash deposit
Confirm return receipt of initial LC and return it to bank; or
Confirm return receipt of initial/additional cash deposit; or
Instruct bank to transfer returned cash deposit to line of creditPrepare schedule of Buyer's funding into escrow
Arrange for Buyer's purchase proceeds to be funded into escrow
Arrange for Buyer's purchase proceeds to be invested overnight
Review escrow instructions and exhibits to closing documents
Coordinate delivery of original documents to property manager
Obtain/review the closing statement
Confirm recording/disbursement of funds
Confirm property/liability insurance in place
Send letter to client confirming closing (with closing statement/funding schedules)
Instruct counsel to distribute the closing binders
Property Operations and Management
Select Property Management company
Finalize Property Management Agreement
Verify financial terms of Property Management Agreement are reflected in proforma
Select leasing company
Verify Service Contracts are at market
Verify no disputes with brokers, suppliers or employees
Verify no existing or contemplated labor strikes
Verify all obligations and trade creditors being paid in normal course
Review Property management files
Review list of warranties and expiration dates
Review maintenance schedules for equipment, and repairs and maintenance expenses
Financing Matters (If applicable)
Contact Mortgage Consultant
Provide Property information to Mortgage Consultant
Receive/review Loan Quotes
Select Lender
Signed Loan Commitment
Arrange Payment of Loan Commitment Fees
Receive/review/negotiate Loan Application
Signed Loan Application
Provide Mortgage Consultant/Lender with requested documents
Finalize Loan Documents
Signed Loan Documents
Arrange for funding of Financing Proceeds
Internal Procedures and Reporting
Confirm property visit by Asset Management and Management Committee member
Confirm that all client specific acquisition requirements are met
Issue transition memo to Asset Management, Property Management and Accounting (if applicable)